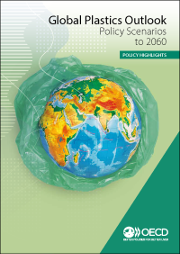 While with business-as-usual, global plastics use, waste and related environmental damages are projected to increase by 2060, timely and ambitious policies can drastically reduce future environmental damages and in particular plastic leakage to the environment. The level of ambition of the policies and of international engagement will determine the extent to which plastic pollution is reduced.
The Global Plastics Outlook compares two policy scenarios with different levels of stringency.

The Regional Action policy scenario reflects regionally differentiated engagement, with more ambitious targets for OECD countries than for non-OECD countries, while the Global Ambition policy scenario explores a very stringent policy package that aims to reduce plastic leakage to near zero by 2060 globally.